Matt's Super Awesome GTD Planner Page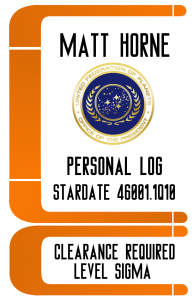 I lost my iPod touch last year.
So I had to use a paper planner since my todo lists, project lists, and miscellaneous info was on the iPod. I didn't like the ones at Wal-Mart, Staples, or anywhere else, so I opted to make my own. I found an article on binding my own books and created a Week-at-a-glance planner template, printed it, and bound it. I make one every quarter and they all have 13 weeks in them.
Each quarter has a different cover. I really like making fun covers. It fits just right in the back cover of my notebook – an AMPAD Project notebook. I'm very particular about my paper.
Pro's:
It forces me to do a weekly review
It's cheap – I don't have to buy planner refills and I've always got paper, toner, and glue.
It's easy to keep with me all the time, since it's very thin
Color coding = awesome
I made it, so I'm proud of it and I like to use it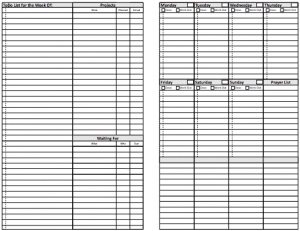 Con's:
No copy-and-paste
No gmail integration
No google calendar integration
Other stuff I can't think of right now
I found my iPod touch, so I don't use this anymore, but if anybody else wants to use it, here you go!
Stats:
Size: US Letter – 8.5 x 11 inches
Made in OpenOffice.org
Type: PDF
Matt's Super Awesome GTD Planner Page

Matt's Super Awesome GTD Planner Page by Matt Horne is licensed under a Creative Commons Attribution-NonCommercial-NoDerivs 3.0 Unported License.
Related Posts: {.related_post_title}