Mega Church IT on a Country Church Budget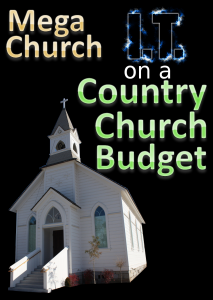 You may not have 1000 members in your church — in fact, there may not be 1000 people in your town — but you can have quality Information Technology in your hand and on the cheap.
I don't know you. You could be the pastor of the church, the youth pastor, or the sound guy. You might be retired and computers could be your hobby. Maybe you're just reading this because you're bored.
No matter who you are or how big your church is, you don't have to settle for status quo. We need to give God our very best work, so let's up the ante on the things you publish. Whether you need a better bulletin, a nicer newsletter, or a wonderful web site, you can do it yourself and it's easier than you think.
You don't need to pay someone $25 per month for a 1997 looking web site built by somebody who can barely turn on a computer.
I know you've used the same MS Word Template for your bulletin for the past 10 years. Change is hard, but you can have an amazing Sunday Morning Service Bulletin that glorifies God with minimal effort.
You can send out a useful and beautiful e-newsletter for free.
If you don't know much about technology — that's okay. In the next few articles, I'll show you how to build a quality web site quickly, easily, and cheaply. We'll put together a great looking bulletin that gets the job done. If you stick around long enough, I'll also show you how to put together an e-newsletter that looks as good in your email inbox as it does on paper.
Until next time think about this: "Whatever you do, work heartily, as for the Lord and not for men," Colossians 3:23 ESV.
---
PART 1: "3 Keys to a Great Church Website"
Related Posts: {.related_post_title}